⚡⚡⚡Notice! ! !(Transportation time)⚡⚡⚡
⚡⚡⚡ EU Area: 7 days
⚡⚡⚡Other Areas: 30-45 days
⚡⚡⚡Some island areas cannot be delivered, please contact us by email before placing an order in island areass
List price includes all costs
You don't need to pay any other fees!
Secure Payment
We support multiple payment methods. You can transfer directly, if you encounter problems with the payment (contact us)
1-Year Warranty
Buy with confidence
Accessories For You
Give you a gift worth €200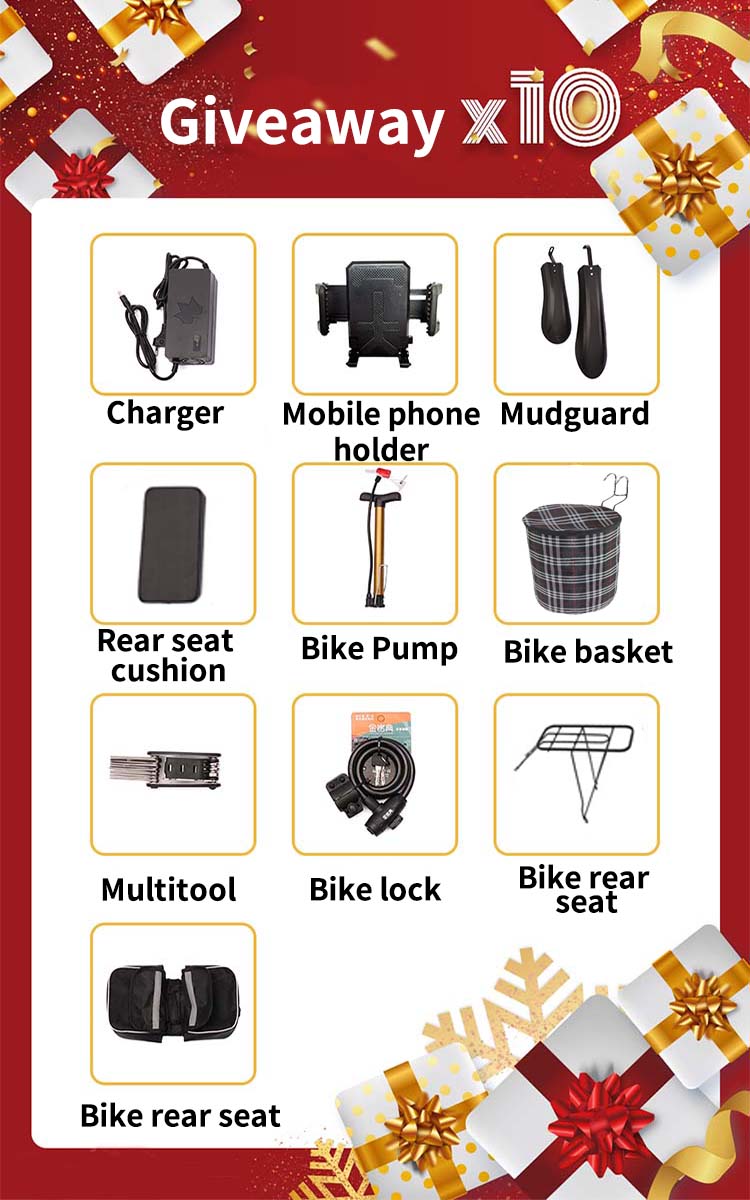 Technical Specifications
What Makes the R6 Best in Class?
20 x 4.0-inch Fat Tires
The thicker tires increase the contact surface to the ground, which can effectively increase friction and can handle any terrain. High-quality anti-slip wear-resistant tires can fit wet stones, muddy trails, beaches or snowy mountains.
800 W Powerful Brushless Motor
Jinghma R6 is equipped with 800W high-speed brushless gear motors and 48V intelligent brushless controller, it can easily assist you to travel at 40km/h. The powerful motor increases stronger hill-climbing power and provides more than enough to power your daily commute. It supplements your pedaling power, so you can ride farther and take a long way home.
>
Multi-function Display
Equipped with an LCD multifunctional display, Jinghma R6 gives you access to advanced settings. You can control your speed settings, or enact a walk-assist. All the information of 5 PAS settings, speed, battery level and mileage. The LCD display guarantees you can read your statistics easily.
Shimano 7 Gear Shifting
Jinghma R6 is using a wide-range Shimano 7-gear shifting to provide expert control on the electric bike. The ideal gear steps facilitate seamless transitions to perfectly match your terrain and riding style. The Shimano front derailleur provides you the option to choose any speed to enjoy faster riding time or experience a relaxing holiday according to your needs.
>
12.8Ah High-performance Lithium Battery
Adopting a collapsible middle stem and removable battery, the battery is super-secure while riding but easy to remove, and can be charged at any household outlet on or off the bike. The battery capacity of 48V 12.8Ah can support your long-distance travel. Jinghma R6 folding bike can be fully charged in 5 to 7 hours.
Shock springs
A lot of effort has gone into reducing bumps on the road, and the cutting-edge shock spring design makes for a more comfortable ride on the road!
What Makes It Special
20inch
folding ebike
800W
POWERFUL MOTOR
48V 12.8ah
SAFE BATTERY
UP TO 80
RANGE(KM)
MAX 45KM/H
TOP SPEED
330 lbs
ULTRA-LIGHT
jinghma r6
With the portable Jinghma R6 foldable electric bike, you can go ahead and venture off the beaten path. Equipped with a 6061 aluminum frame, all-terrain 20×4.0 fat tires, and a front suspension fork, you are prepared for any adventure. The double-disc brakes keep you in control at all times with fingertip modulation. Jinghma R6 is packed with smart features for taking any ride to the next level of freedom and pleasure.
Potencia en las pendientes
Llevo 4 meses disfrutando de esta maravillosa bicicleta R6 (7 años con otros modelos eléctricos) y me interesa saber si es normal que en carreteras con pendientes del 5% la velocidad de la bicicleta se vaya reduciendo conforme vaya subiéndola, al igual que cuando no encontramos con el viento en contra, es obvio que se necesita más consumo eléctrico o lo más importante sería tener la opción de hacer más esfuerzo físico pedaleando para solventar este problema. Actualmente la 'asistencia al pedaleo' no hace más que mover el motor para convertirse en un 'acelerador con pedales'. Aconsejo al Fabricante que elimine este 'acelerador con pedales' y que de verdad sea una 'asistencia al pedaleo'. Acaso, díganme si esto ya está solucionado en otros modelos aunque seán más caros, gracias.
Fast delivery in 4 days, good sound bicycle which very tasty are Cycling
Viskas Labai outlets. Galima pirkti.
Super fast delivery in just 6 days
The bike arrived well protected with a little damage to the rear carrier but probably formed during transport so I forgive it
This is a great electric bike, huge and it's good that I chose Jinghma!
Even before ordering, the seller answered every unusual question and helped me in every way.
Thanks for the great product that I 100% recommend!
I will get back when I charge it and after the test drive with additional information.
I wish everyone at JINGHMA all the best and a great future