⚡⚡⚡Notice! ! !(Transportation time)⚡⚡⚡
⚡⚡⚡ EU Area: 7 days
⚡⚡⚡Other Areas: 30-45 days
⚡⚡⚡Some island areas cannot be delivered, please contact us by email before placing an order in island areass
List price includes all costs
You don't need to pay any other fees!
Secure Payment
We support multiple payment methods. You can transfer directly, if you encounter problems with the payment (contact us)
1-Year Warranty
Buy with confidence
Accessories For You
Give you a gift worth €300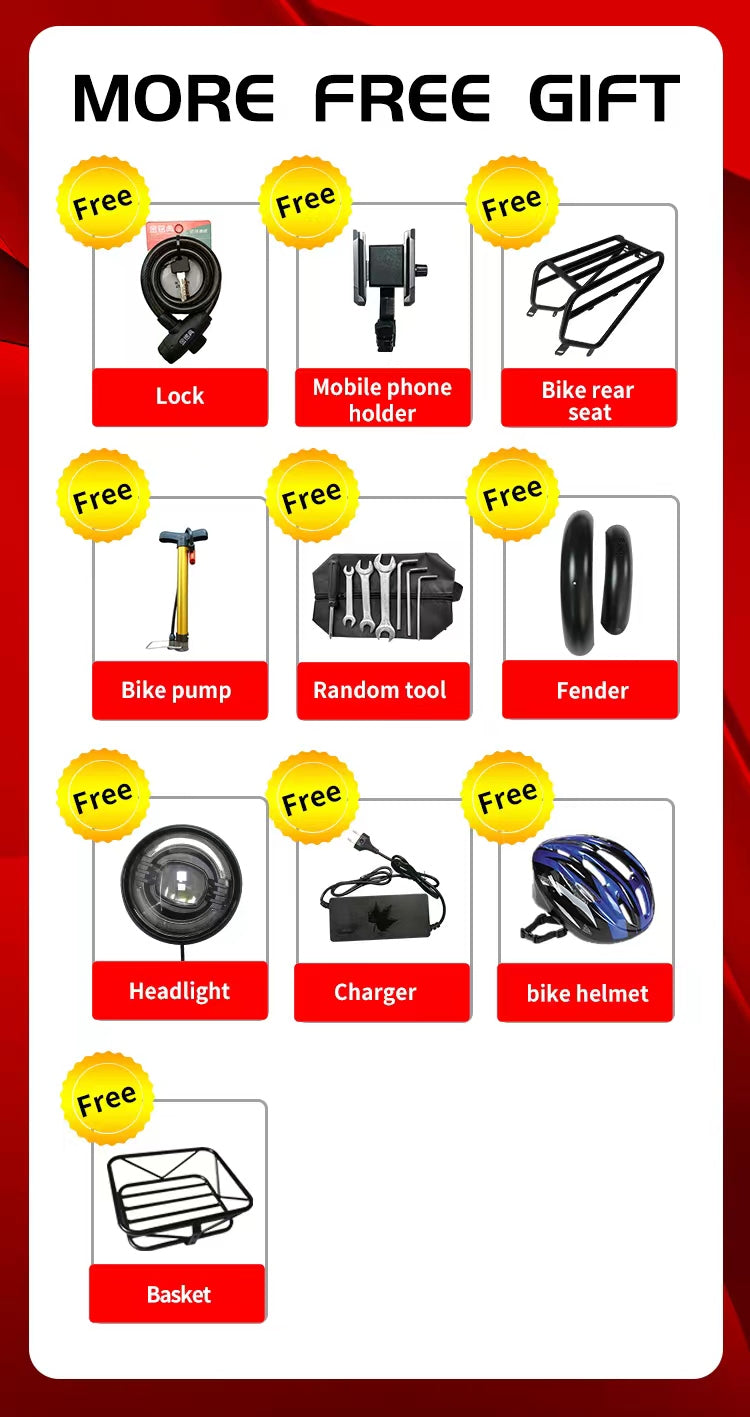 Technical Specifications
What Makes the R7 Best in Class?
CST large fat tires
Because of its larger size, the fat tire has more and larger teeth, which makes it extremely grippy, and Jinghma R7 can effectively increase the friction, so as to ensure your safety and comfort on the road.
advanced shock absorbers
The large suspension with advanced shock absorbers has excellent shock absorption capacity, allowing you to pass through the steep road as smoothly and stable as sitting in a car.
>
800w brushless motor
The powerful motor has good external characteristics and can output large torque at low speed, so that it can provide large initial torque, and Jinghma R7 has high efficiency and strong overload capacity.
12.8Ah/16Ah Removable lithium battery
There are two charging methods for lithium batteries, one can be disassembled to charge at home or office area, and the other is directly charged, but you don't need to worry about being stolen, because Jinghma R7 is a hidden battery, no one can find it its location. This allows you to choose the charging method according to your own situation to meet your various needs.
>
Clear HD display
Jinghma R7 is equipped with a high-definition LED display. Compared with ordinary displays, it has a long life and strong hardness, and will not easily crack or break the screen. At the same time, it generates less heat and will not be damaged by overheating cause safety problems.
Shimano 7 Speed Transmission
Jinghma R7 is using a wide-range Shimano 7-gear shifting to provide expert control on the electric bike. The ideal gear steps facilitate seamless transitions to perfectly match your terrain and riding style.
What Makes It Special
20inch
folding ebike
800W
POWERFUL MOTOR
48V 12.8ah/16ah
SAFE BATTERY
UP TO 80
RANGE(KM)
MAX 45KM/H
TOP SPEED
330 lbs
ULTRA-LIGHT
JINGHMA R7
20inch electric bike
The electric bicycle R7 is equipped with a double-disc oil brake and a power-off system. When you brake, the electric bicycle will cut off the power and turn on the braking system. Let the electric bicycle stop quickly to ensure driving safety.
The goods came quickly, in 15 days!. But, I couldn't get it, because There was an error in the recipient's data. The seller was in touch, promptly answered and solved this question,. I was worried of course, because. The question hung in the air for a long time. It's been another one and a half weeks, and this great handsome man at my house. I want to say, do not worry and immediately open a dispute, if something like this happens to you. You need to safely and kindly talk to the seller.
The parcel weighed 46 kg (on the invoice), I ordered 800 W with 2 batteries. The box is dense, in a moisture-proof bag and well wrapped with Scotch tape. Nothing is broken and not torn. Inside, everything is correctly packed and fixed. I did not find any defects. All accessories, as in the description. As I collected, immediately rolled. The battery was 57%. I haven't checked the other one yet.
According to Impressions: there is nothing to compare with, TC is the first such device. But I now can not hold home, I want to ride and ride))
I think the seller is reliable. Shop is still young, I wish prosperity!
This bike handles very well on rough ground. There is plenty of power. Riding with power assist ON, is effortless. Riding without power requires more effort than it would take on a regular bike.
Shipping took some time, but the seller was very responsive and helpful. The bike was well packaged. Gift items are of good quality.
To change settings, google: "Vogue-Bike-Handleiding-Model-UKS2". Run PDF through Goggle Translator.
This bike is pretty much everything I have expected it to be.
Very satisfied! Shipping 1.5 months. Seller matey! Directly responsible, help with tracking and other issues. Bike Electric 've clocked up to 41 km/h in a straight line without уклонов with my weight 107 kg. After a run in 17 km-50% battery discharge. The bike with 7-мью speeds, rides even very well. Like mode using the pedals. Seller send a video, which shows the maximum speed limit setting.