⚡⚡⚡Notice! ! !(Transportation time)⚡⚡⚡
⚡⚡⚡ EU Area: 7 days
⚡⚡⚡Other Areas: 30-45 days
⚡⚡⚡Some island areas cannot be delivered, please contact us by email before placing an order in island areass
List price includes all costs
You don't need to pay any other fees!
Secure Payment
We support multiple payment methods. You can transfer directly, if you encounter problems with the payment (contact us)
1-Year Warranty
Buy with confidence
Accessories For You
Give you a gift worth €300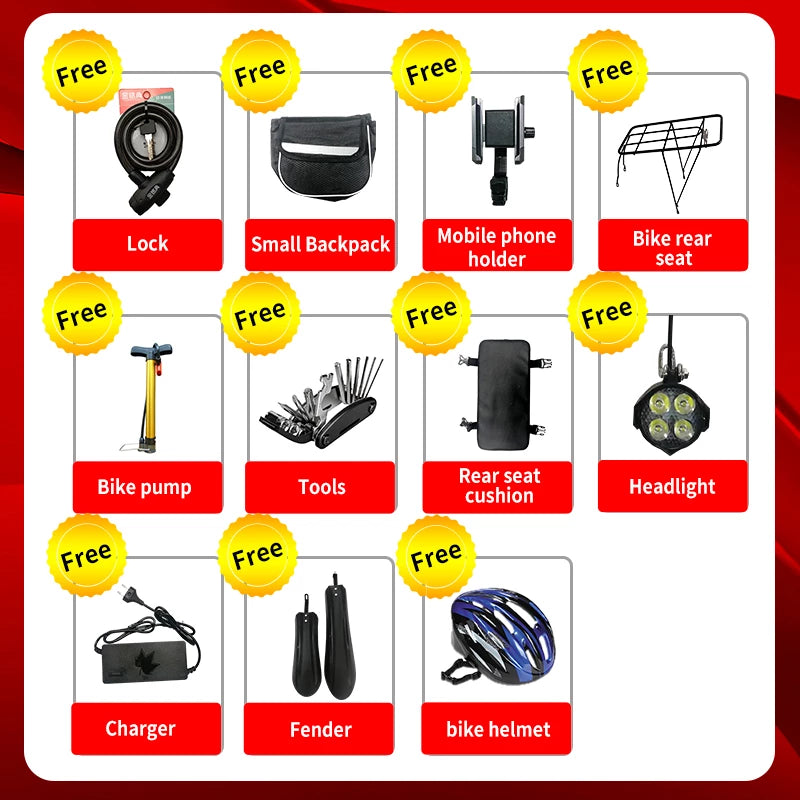 Technical Specifications
What Makes the R5 Best in Class?
14Ah Large capacity Lithium Batteries
14Ah Large capacity Lithium battery has overcharge, overvoltage, overdischarge, overcurrent, discharge circuit board, temperature and disconnection protection, so even if you charge it overnight, you don't need to worry, the battery will automatically power off when fully charged, and will not cause safety problems
CST26 inch*4.0 fat tire
26-inch*4.0 fat tires are used to provide better riding resistance and impact resistance. It can reduce resistance, and enhance your riding experience.
>
LED high-definition display
The LED smart meter has low energy consumption and strong permeability. It can clearly see all bicycle information in the meter in rainy and foggy weather and at night. The waterproof trunk line can ride in rainy and snowy weather to avoid safety accidents due to bad weather.
powerful shock absorber
Double shock absorption is better than single shock absorption, which can not only prolong the service life of the spring, but also ensure the safety of the vehicle by improving the ground contact of the tire to the ground.
>
21 Speed Shimano
A variety of gears to switch at will, allowing you to easily cope with a variety of complex terrain
1000W high speed motor
1000W high speed motor, the upgraded model provides stronger electric power with speed reaching up to 45KM/H.
What Makes It Special
Mountain E-Bike
COMPACT SIZE
1000W
POWERFUL MOTOR
48V 12.8AH
SAFE BATTERY
UP TO 100
RANGE(KM)
MAX 45KM/H
TOP SPEED
400 lbs
ULTRA-LIGHT
JINGHMA R5
electric mountain bike
R5 electric bicycle adopts high-strength aluminum alloy frame. The battery is integrated into the frame of the frame, which not only saves space, but also gives the bike a more attractive design while keeping it safe and durable. The operating area is equipped with switches, lights, horns, indicator lights and speed buttons. Even if you've never ridden an e-bike before, you can quickly learn all the features. Foldable and easy to transport, the R5 fits in the trunk of most passenger cars. Cycling to watch races and concerts can also help you avoid traffic jams and get to your destination quickly. Cycling trips with friends or family can also be a pleasure during the holidays.
Impeccable, the bike is top in comparison to photos that do not highlight it. Big and big bike that rolls frankly well and fast. Very happy.
Thanks got on time! The bike corresponds to the description thanks for the gifts!
The product was nice and the seller also good person thanks
This new model they launch are really good! Good quality, also it is the best snow e-bike i have seen. Well done!! Hope you can do really well with the business.